Hard Drive Destruction Service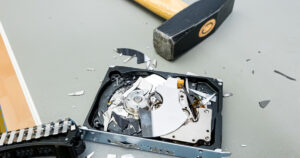 Hard drive destruction is the ONLY secure way to permanently destroy data
Southern California Shredding understands confidential information on hard drives can become the target of Internet Thieves and identity scandals. Information security is a critical issue facing individuals and businesses today. Daily we learn of another situation where confidential data has been compromised by hackers exposing your classified information.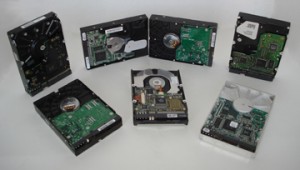 When a business or resident upgrades their computers they often overlook the need to dispose of the confidential information left on the hard drive. Since the problem is so prevalent, there are actually several laws in place to ensure companies adhere to the same high standards in protecting data when disposing of electronic components: HIPAA, SarBOX, GLB, and FACTA. Simply erasing the information on a hard drive is not good enough. There are programs that can be purchased which may erase some data, some just delete the temporary files on the drive and the actual data remains and that could leave you exposed. There are available software programs that can be purchased that will restore information on the targeted hard drive. These programs can get into the wrong hands and give people access to your most confidential files.
Why Hard Drive Destruction with Southern California Shredding?
Shredding your hard drive is the only proven method to securely destroy data from hard drives. Physically shredding the hard drive can give you piece of mind and fight against stolen information and identity theft. Southern California Shredding now offers hard drive destruction to our customers.
We use the latest in Mobile Shredding Technology to shred the drives so that no data can ever be reconstructed or retrieved. We will shred your hard drive(s) on site. You wouldn't throw away a confidential document without shredding, why wouldn't you do the same with your hard drives?